Belfast is UK's least energy efficient city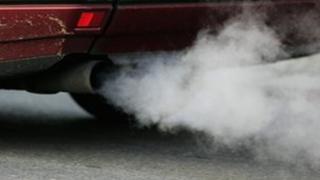 In a list of the UK's top 20 cities, Belfast is at the bottom when it comes to reducing carbon emissions.
While other cities fell by over 12%, Belfast managed just 4%. The city actually increased its emissions at one stage.
Even Greater London, which was just one place above Belfast, managed a 10% reduction.
The survey was carried out by the Royal Institute of Chartered Surveyors (RICS).
Belfast's per capita emissions are the highest of the 20 cities surveyed.
And that is despite the fact that actual per capita energy consumption in Belfast is relatively low, due in the main to the high level of public sector employment and that many of the heavy energy users are outside Belfast.
It means that Belfast uses its energy very inefficiently.
To make matters worse the survey notes that Northern Ireland has higher per capita carbon emissions than England, Scotland or Wales.
Carbon target
RICS Northern Ireland environment spokesman, Michael Doran, said: "Forty-seven per cent of Belfast's emissions are from the domestic sector, which is the highest of the UK cities, reflecting the relative energy inefficiency of Northern Ireland's housing stock.
"This is where the main problem for Belfast exists in terms of carbon emissions.
"A very high proportion of carbon emissions across the UK come from housing, and this is even more the case in Belfast and Northern Ireland.
"Things like installing energy efficient boilers, double-glazing and loft and wall insulation can make a huge difference. This is where Northern Ireland needs to focus its attention.
"Retro-fitting homes to make them more energy efficient is a must. We are simply not implementing the Green Deal, which is an initiative that specifically addresses energy inefficiencies in housing."
Northern Ireland's targets for carbon emission reductions are not the most challenging in the UK. Looking ahead to 2050, Scotland and Wales have both set a CO2 emission reduction of 80%, compared to what is called the "baseline".
Northern Ireland has set its target at just 25% - even less than the Scottish target of 42% by 2020.
The survey will add strength to the argument that we have the highest energy prices in the UK, yet we waste a lot of it.
It will also give the fuel poverty lobby more ammunition to demonstrate that Northern Ireland's energy strategy is not as effective as it might be.