UUP leadership contenders debate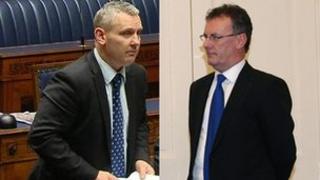 The contenders for the leadership of the Ulster Unionist Party came face to face on Tuesday night in Londonderry for a debate in front of party members.
Either Strangford MLA Mike Nesbitt or South Down MLA John McCallister will become leader after a vote at the party's AGM in Belfast on Saturday.
Earlier in March, Tom Elliott announced he was standing down , but would continue as an MLA for Fermanagh & South Tyrone
He had been leader since 2010.
At the debate, Mr Nesbitt said he had received support from across all sections of the party.
"When I went out to get 35 signatures, as you have to do to be nominated, I ended up with 94 and those 94 were spread all across the province, across the alleged factions, east and west," he said.
"This is the party saying it is time to change. Let's do it positively, let's embrace it and forget the last 14 years.
"The agony of the price we paid for the Good Friday Agreement is over and now we can move forward."
His opponent John McCallister has said he would take the party into opposition at Stormont if he became leader, something Mr Nesbitt thinks is wrong.
"I think if you look at how people voted in the last election they want people to get on and co-operate and start delivering up at Stormont," Mr Nesbitt said.
"So I think we have to be humble enough, having fought a rather negative campaign, to take that message."
However, Mr McCallister said opposition would be a good thing for the party.
"This is a sensible move to give the Ulster Unionist Party time to rebuild, reconnect and refocus its energies on getting back into government," he said.
"All democratic systems have a government and an opposition. It is a normal healthy part as we progress to a more normal society.
"We will go into opposition, oppose the government where we think they are wrong, support them if we think they are right and set a clear, distinct alternative to offer the electorate at the next Assembly election."
While he acknowledged some may see him as the underdog in the race, Mr McCallister said he had enjoyed the meeting.
"I would love more meetings like this because I think it's good for firing up the party faithful," he said.
"It's been good getting out and having the debate with Mike."
His message to party members was: "Listen to the arguments and get along to the Ramada on Saturday and vote."