Woman held over Simon Tang murder is released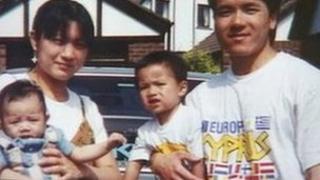 A woman arrested in connection with the murder of Simon Tang in Carrickfergus 16 years ago has been released pending further inquiries.
Mr Tang, 28, who was married with two young sons, was beaten and robbed as he left his takeaway business on 24 June 1996.
The 53-year-old woman was arrested in Carrickfergus on Wednesday morning.
The murder was featured on the BBC's Crimewatch programme on 20 March. No-one has been charged with his murder.
It is thought that two youths attacked him and stole less than £400 and his watch.
He was taken to hospital but died from his injuries.
In January, police in Northern Ireland said they were following new lines of inquiry and appealed for more help from the community.
They would like to speak to two men who were seen walking up Ellis Street towards the Good Future takeaway restaurant at about midnight on 24 June 1996.
Police are also keen to speak to a woman who contacted the Mater Hospital on the night of the murder asking about the condition of the "Chinese man" assaulted.
Mr Tang was an Oxford University graduate, but instead of pursuing a career in architecture he took over the family business.