164 pig plant jobs for Cookstown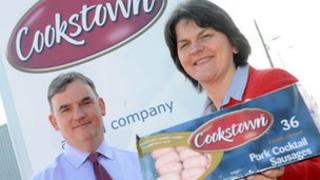 One hundred and sixty four jobs are being created in Cookstown.
Vion Food UK is investing £11.5m in the company's plant in the County Tyrone town. Invest Northern Ireland have invested almost £1m.
Enterprise Minister Arlene Foster announced the investment on Wednesday.
The money will go towards installing new equipment and improved technology at the facility, which is the largest pig processing plant on the island of Ireland.
The Cookstown plant currently employs more than 700 people and produces pork, sausages, bacon and cooked meats.
Ms Foster said the investment was a "tremendous boost".
"The enhancements to the company's processing facilities will allow it to become more efficient and increase profitability as well as ensuring that the pigs are handled in the most humane way possible," she said.
"Vion anticipates a significant increase in sales as a result of this investment and will ensure the company continues to play a strategic role in sustaining the important Northern Ireland pork sector."
MP for Mid Ulster, and deputy first minister, Martin McGuinness said the announcement was a "good news story in difficult economic times".
"The creation of an additional 164 jobs will not only instil confidence into the local economy, but will create significant spin-off benefits to other local businesses," he said.
Vion Foods is based in the Netherlands.
It employs more than 25,000 people worldwide and has an annual turnover of almost 9bn euros.