Empty nursing posts unacceptable: Edwin Poots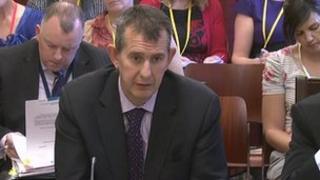 The health minister has said it is not acceptable that 13 nursing posts remained unfilled at Belfast A&E departments over the winter.
Edwin Poots told the health committee there was still a lot of work to do.
He said he expected eight of these positions "to be filled in the very near future".
In January the BBC revealed that 558 nursing shifts were left unfilled over a four-week period in December.
Thirty-eight of those were in the Royal Victoria Hospital's A&E department.
"Over the winter period, particularly when you have the pressure, it is not that good a thing to be depending on bank or agency nurses," Mr Poots said.
The minister said there were currently 70 in-patient admissions per week above what had been anticipated at the RVH.
He also claimed the Ulster Hospital "had its pressures" and, on Monday, it had experienced a 50% increase in admissions compared to the same time last year.
Mr Poots said work was underway to resolve the "problem" at Antrim Hospital. He said this included the recruitment of 40 additional permanent nurses and extra consultants.
The minister said that if nurses were to be given more responsibilities such as prescribing and discharging patients from hospitals, then their pay packets should reflect those extra duties.
Last week, he announced an action plan to tackle the ongoing crisis in A&E departments. Nurses and the role they play are at the very heart of the plan, but the minister recognised that nurses who are on salary band 5 could not be expected to carry out such an important role.
"We do need to ensure that if people are given responsibilities, they are given the (salary) band to go with that," he said.
"If we do not provide that or value the work that is being offered, we do not maximise the output from individuals."
Sue Ramsey, chair of the health committee, said change was needed, especially after "the bleak couple of weeks we have come out of".
Health workers and patients have been critical of the situation at the RVH since the A&E unit at the City Hospital closed last year.
Earlier in March, it emerged that a 77-year-old man died on a hospital trolley at the RVH after waiting almost 24 hours for a bed.