Antrim house blaze was arson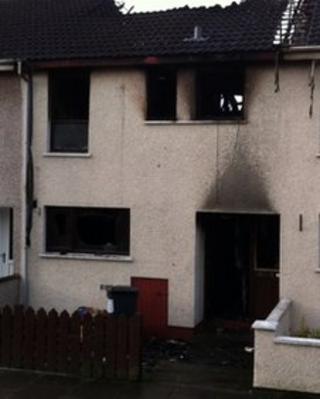 A blaze, which badly damaged a house in Antrim in the early hours of Thursday, is being treated as arson.
The alarm was raised just after 04:00 BST at the property in Thyme Park, off Cunningham Way.
It is understood one man lives in the house but was not there at the time.
People were moved out of adjacent homes while the Northern Ireland Fire and Rescue Service dealt with the blaze.
No one was injured.
Smoke damage was caused to neighbouring properties.
Anne Wilkinson, who lives nearby, said it was a terrifying experience.
"I saw smoke and I thought my neighbour was out burning something in the early hours of the morning and then I saw the flames," she said.
"The back was all gone. The glass was out of the downstairs window. The door was open, the flames were in the stairs by then."