Newtownabbey play park disappears overnight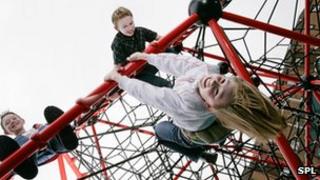 Residents in Newtownabbey woke up on Wednesday to find a local play park had vanished overnight.
The Rushpark playground had been earmarked for closure, but the council said it would not be removed until a new park was ready for action.
One local resident said they felt "cheated".
However, the council said the land it stood on had been sold and with contractors due on site the play equipment had to be removed.
Newtownabbey Borough Council said the Rushpark Community Centre, which included part of the play area, had been sold to Apex Housing Association for social housing.
"Unfortunately, due to the speed with which the final negotiations took place, the council was unable to keep residents up to date in the way they should have been," said a statement.
"The council regrets this and plans to keep local residents fully involved and informed about the progress of the new play area."
However, changes to the location of the new play park will delay completion.
The preferred site was owned by the Housing Executive and was not available. The play park will now be built on a site owned by the council.
"The new play area will be superior to the original play area and it is hoped to have it completed during the summer," the statement continued.
"Whilst the council appreciates that local residents are angry the play equipment has been removed at this time, it is hoped that local children will be enjoying a fantastic new play area later this summer."