Portrush promenade collapses on shifting sands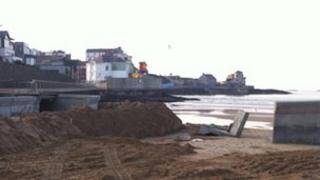 The summer of 2012 looks set to be a bumper one for Portrush with the Irish Open coming to Royal Portrush Golf Club in June and the return of the Red Arrows to the Portrush International Air Show.
However, local residents are worried about a newly-built section of the promenade along the beach.
A section, which was only opened in 2011, has collapsed because of winter storms.
"Big waves and big tides have washed part of the path away making it impassable," said Martin Kelly who runs Portrush Surf School.
The collapsed section has also made access from his business premises to the beach impossible.
"It's a surf school and a hire centre," he said. "I'm paying rent on a shop I now can't use."
'Displaced units'
In a statement, Coleraine Borough Council said: "Following the failure of foundations of a section of the promenade, the contractors have embarked upon reinstatement.
"The reinstatement works are now progressing well and all of the displaced units have been set back in position," it continued.
"The council hope the scheme will be fit for use in advance of the summer season."
However, when BBC News reporter Eunan McConville went to Portrush on Wednesday, he said two concrete bollards had yet to be set back into position and a hole in the foundations remained.
Coleraine UUP Councillor Norman Hillis said the collapse was a "major embarrassment".
"Large sections of it have been there for the last 70 years," he said.
"This new section didn't even last six months.
"I don't know whether, as they say, the castle was built on sand, or what went wrong, but something went drastically wrong and we're urgently trying to get it sorted," he said.
"You can be darn sure I'll be pushing like mad, but we have already been guaranteed that it will be sorted by the end of May and that's a good three weeks before the golf.
"So let's hope they're right."