Deadline approaches for Republic's household charge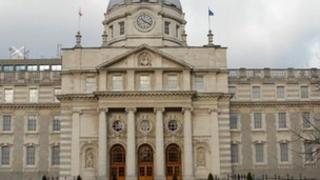 The clock is ticking for householders in the Republic to pay a 100 euros household charge by midnight on Saturday.
The flat rate charge is the first tax on domestic property since rates in the Republic were abolished in 1997.
Taoiseach Enda Kenny has said he is confident that people will obey the law, but the issue may turn out to be the catalyst for an act of 'mass revolt' of sorts.
In the Liberties area of Dublin business is slow for butcher Stephen Dowling, but the charge is causing him to see red.
"I won't be paying it as I think we are being ripped off enough, it's a new government and nothing has happened, just another indictment of the last government."
One of his customers, 82-year-old Carmel Sweeney, nods in agreement.
"My husband worked all his life to pay for that house under me and now they want me to give them a hundred euro to keep me in it, no way."
Money collected
"No, threatening you if you don't pay with fines and the like, when it comes to that your country is gone."
The Republic's Junior Finance Minister Brian Hayes says the money collected via the charge will be used to provide services at a local level.
"The fact is, we have got to get this money in because this money goes directly towards local libraries, roads, pavements, all of the services we expect from our local authority," he said.
On the opposition benches, the Sinn Fein party is opposed to the charge.
"Quite frankly, it is absolutely hysterical that Sinn Fein should be leading a campaign against it here when in Northern Ireland they are more than happy to charge around £1,500 per household that their government has no difficulty in implementing," Mr Hayes said.
But there is a problem.
An estimated 500,000 have so far registered out of a total of 1.6m liable householders and Saturday evening's midnight deadline is looming.
Rarely seen
Luke 'Ming' Flanagan, an Independent TD for Roscommon, has led a number of public meetings in opposition to the new charge and says it is a "lightening rod" across all demographics of Irish society.
"Young people are turning up which you rarely see at a public meeting, along with the very old, but so too are people with wealth dripping off them," he said.
"It seems to be less about the ability to pay and more about putting down a marker to say to this government, go out to Europe and fight that bit harder and get a massive amount of debt that is not ours taken away again."
People based in Northern Ireland who own a home in the Republic are also liable to pay the charge.
Paul McSweeney, head of the Local Government Management Agency, outlines one payment option.
"Go online to www.householdcharge.ie and set up an account under the ownership tab, tick a box that states you are a non-resident and this allows you proceed to register the property and pay the 100 euro," he said.
A surge in the numbers registering to pay is expected in the days ahead but the Irish government remains exposed to political fallout.
"I think it has the potential to inflict great damage on the coalition because it's something that affects every household in the state," says Irish Times political correspondent, Harry McGee.
"If the numbers are really bad when the deadline passes, I think it has the potential to derail perhaps one or two ministerial careers."