Unionism must reach out to all: Robinson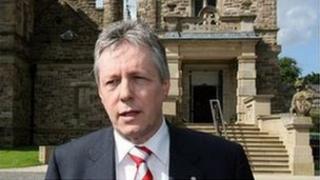 Unionism must look to its founding principles and reach out to people of all backgrounds, the first minister has said during a lecture in Dublin.
Peter Robinson said that would pose a challenge to unionism.
Mr Robinson made the remarks during a lecture reflecting on the 100th anniversary of the signing of the Ulster Covenant.
The event hosted, by the Irish government, took place in Dublin on Thursday.
Mr Robinson spoke about the legacy of Edward Carson and the history of Irish unionism as well as his own personal political journey.
He said it was a sign of real progress that unionists and nationalists could consider the events of a century ago in a spirit of respect, reconciliation and understanding of shared history.
"Edward Carson was a giant figure, not just in Ulster or Irish politics, but on the national stage.
"He would not be what in today's terms could be considered a stereotypical unionist. He wanted to keep Ireland united and within the union and he repeatedly sought accommodation with his nationalist fellow-countrymen.
'Peacetime unionism'
"He would have regretted that it took almost a century for relations between the two new states to reach the level he had envisaged," Mr Robinson said.
He said we now lived in an era of peacetime unionism.
"I embrace that freedom. I have confidence in the attraction of my unionist vision of the future. I am convinced that it more than matches any alternative that exists.
"Ultimately, the majority must be able to determine the constitutional status of Northern Ireland, but if we have learned anything in recent years, it is that the minority must also feel secure within the arrangements, whilst maintaining their own right to seek democratic change."
The first minister said that what was most interesting was not how people from the Protestant community, but how those from a Catholic background, were responding to the new dispensation.
"Separation over many generations has changed things for nationalists as well as unionists," he said.
"Make no mistake, I want to see our structures at Stormont reformed and normalised - and I want to see it done as quickly as possible - but it must be on a basis which can command cross-community endorsement.
"In doing so we must not undermine the widespread support for the institutions that presently exists.
"The Stormont Assembly and Executive, for all of its imperfection, is accountable to the people of Northern Ireland and in many ways has delivered better - in spite of the recession - than any of its predecessors."