Runner Jonny fulfills Olympic dream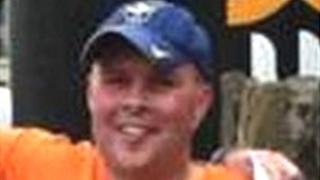 Members of the public have beaten the athletes by becoming the first runners to cross the finishing line at the Olympic Stadium in London.
Five thousand runners of all abilities were chosen at random from almost 43,000 hopefuls to take part on Saturday in the five-mile run around the park in Stratford ahead of the 2012 Games this summer.
Among them was 37-year-old Jonny Lindsay from Newtownabbey, an experienced runner who took up the sport 15 years ago.
"It's a great opportunity," he said. "I'm just very proud to be selected for such a wonderful event.
"I've run several marathons, but there'll be lots of runners of different abilities and to be the first to cross that finishing line is just brilliant."
Jonny's wife Natasha and two children, nine-year-old Cameron and seven-year-old Annie, travelled to the stadium to support him.
The application process to enter the race, organised by the National Lottery, opened last September.
Some people entered online while others won their places through competitions run by the local press.
Damien Cunningham, 46, from Kilkeel, was also allocated a place by ballot.
"It's a fantastic once-in-a-lifetime opportunity to play a small part in the Olympics.
"To be running with former and new athletes doesn't happen every day, but just to be part of the history of the Olympic games 2012 is amazing." He said.
The route was entirely within the Olympic Park, meaning competitors ran past many of the other main Olympic venues which include the Velodrome, Aquatics Centre and Basketball Arena.
The 2012 athletics events get under way on 3 August, a week after the start of the Games.