Five children in speedboat rescue off coast of Millisle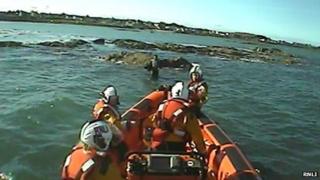 Five children have been rescued after a speedboat ran aground on rocks off the coast of Millisle in County Down.
Four adults were also on board while another young man managed to get stranded on rocks.
An emergency call was received at around 15:30 BST, and the Bangor lifeboat was launched. The boat was towed to safety and no-one was injured.
A coastguard spokeswoman said boat-owners should check their vessels are in working order after the winter.
'Swift response'
Jude McNeill of the Belfast Coastguard said a rescue effort was quickly put into operation.
"Had the boat been left for too much longer being bashed against the rocks, it could have been badly damaged," she said.
"Fortunately they were all wearing life-jackets, but things could have been a lot different if we hadn't been able to give such a swift response."
Kyle Marshal of the Bangor Lifeboat said: "Engine failure so close to shore could lead to a life-threatening situation.
"We always urge everyone going to sea to make sure their electrical systems and engine are well maintained and in good working order.
"A good chain and anchor should always be carried as part of essential safety equipment."