Families consulted over cross-border schools proposal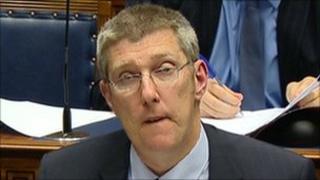 Families living in Northern Ireland and the Republic are to be consulted about sending their children to schools across the border.
Both education departments have agreed to carry out a survey in schools and community groups in border areas.
Arrangements could be in place as early as September 2013.
The Stormont education minister said cross-border co-operation was an accepted and growing practice in higher level education and health.
"We do have cross-border travel in terms of third level and higher level education," said John O'Dowd.
"We have growing cross-border travel in terms of health care, now we are looking at education. How can we improve the service in terms of education for border communities?"
One school in Fermanagh believes cross-border co-operation could be the key to its survival.
St Mary's High School, Brollagh, near Belleek is one of the smallest post-primary schools in Northern Ireland with just 132 pupils.
A consultation is due to begin on Monday over plans to close it. The local community is campaigning to keep the school open.
School principal Michael Burns believes a cross-border partnership could secure its future.
He said they had approached two schools in Ballyshannon, County Donegal, and Bundoran, County Leitrim, to form a partnership. He said the schools had expressed their interest in the idea.
There are practical barriers, including different school ages, transitions years and examinations, but Mr Burns is convinced these can be overcome and the experience would be of benefit to pupils in all of the schools.
Pilot plan
He believes that pupils could make the choice between studying for GCSEs and A levels in Northern Ireland or Junior and Leaving Certificates in the Republic.
He has asked the Council for Catholic Maintained Schools(CCMS) to consider a three-year pilot scheme which could be the model for other border schools.
This would also need the approval of the education departments and ministers on both sides of the border.
Mr Burns said the idea had enjoyed a positive reception so far.
There have been several consultations in recent years over plans to close the school which have been opposed by the local community.
The DUP's education spokesperson, Mervyn Storey, said that at a time when schools are closing and teachers are being made redundant "it is alarming that the education minister is choosing to spend money on surveys to examine cross-border education".
He said the minister needed "to remember that his first priority is educating the children of Northern Ireland".