Keady find was 'part of wider terrorist plot'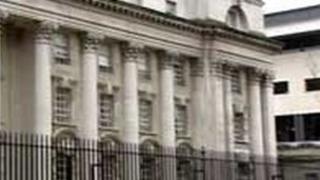 An alleged bomb-making factory uncovered in Keady, County Armagh, last year was part of a wider terrorist plot, the High Court has heard.
Kevin Barry Murphy, 41, of Altowen Park, Coalisland, was in court on Monday.
He denies charges of possession of explosives and possession of articles for use in terrorism.
Police are set to make further arrests as part of their investigations, a judge was told.
Mr Murphy was refused compassionate bail to attend his son's confirmation.
He was detained last year after searches in Keady led to the discovery of the alleged component parts for home-made bombs.
Timer power units, fertiliser, icing sugar and a detonator were all found.
Mr Murphy is allegedly linked through fingerprints on a coffee grinder also seized, according to the prosecution.
He denies any involvement and gave a statement to say he cannot quantify how many household coffee items he has touched over the years.
A prosecution barrister said Mr Murphy and others currently on remand are due to be questioned about other similar incidents.
She told the court: "Police now believe this bomb-making factory... was part of a bigger terrorist plan.
"Arrests are anticipated later this week."
Mr Murphy's barrister said that nothing had been disclosed about any police plans to carry out more interviews.
He said: "The case against this applicant is founded solely on fingerprints on a coffee grinder.
"These fingerprints cannot be dated in any shape or form. It's a thin case."