Harry Hayles and daughter Emma in stable condition after Belfast shooting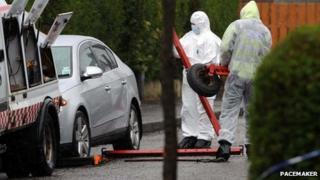 A father and daughter shot outside their home in north Belfast on Tuesday are in a stable condition in hospital.
Harry Hayles, 47, and his 18-year-old daughter Emma were attacked as he was taking her to school.
It has emerged that a 33-year-old man was arrested on Tuesday evening. He was released on bail on Wednesday.
Counselling has been offered to Emma's school friends. Our Lady of Mercy Principal Martin Moreland said pupils and staff are praying for her recovery.
"The whole school community is very shocked," he said.
"Emma is a lovely girl - she's always very bubbly, good humoured and hardworking.
"She has been working hard for her A-levels and has high hopes of going to university next year."
One resident told the BBC that the alarm was raised by children who heard shooting outside their window on Evelyn Avenue.
A masked gunman fired shots into the vehicle. Mr Hayles' wife came out of the house to see a small red van driving off.
Detective Chief Inspector Karen Baxter told a news conference on Tuesday that both were "extremely lucky to be alive".
She said two men were involved in the attack but it was "much too early" to establish a motive.