NASUWT in warning on regional pay for teachers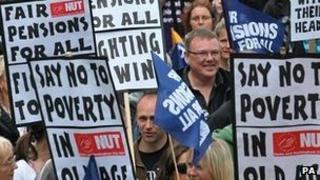 The number of Northern Ireland teachers could be affected if plans are brought in to introduce regional pay for UK public sector workers, a leading trade union has said.
Education Secretary Michael Gove has asked the body which advises ministers on teachers' pay to look at the issue.
The NUT and the other big teaching union - the NASUWT - have backed plans to escalate their campaigns.
The NASUWT has said regional pay would have an impact on Northern Ireland.
"We are one of the areas that would be affected the most," NASUWT regional organiser Seamus Searson said.
"If we found our teachers here were going to be paid less, they would move away and we would also stop recruiting the best people into our schools - that is a firm reality.
"In Northern Ireland, our teachers are very committed to being teachers and it is regarded as a good career.
"If you start to attack the pay levels, you are in a situation where people say 'Why should I go into teaching, I'll go into something else'."
The issue of regional pay was first raised by Chancellor George Osborne, prompting widescale criticism from public sector unions.
Teachers, like many other public sector workers in the UK, have nationally agreed rates of pay, so that teachers on a similar grade in different parts of the country earn roughly the same, although those teaching in London earn more through "London weighting".
The chancellor suggested public sector workers could be paid a rate which was in line with local levels, saying this might stimulate the private sector.
In a statement, the Department of Education said that "for purposes of pay it is custom and practice for the Teachers' Negotiating Committee to agree to implement the recommendation of the Teachers' Salaries Review Body."