Four people rescued from cruiser on Lough Erne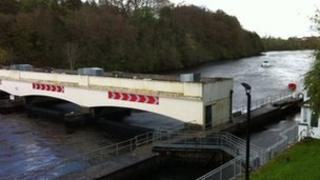 Four people on board a cruiser on Lough Erne have been rescued by the RNLI after their boat ran aground.
It is the second time in a week that a lifeboat has been called out to a stranded boat due to low water levels on the County Fermanagh lake.
On Friday 6 April, a cruiser with three adults and two children on board got stuck in shallow water.
The extended period of unseasonable dry weather has meant that water levels are lower than normal at this time of year.
Waterways Ireland has issued navigation advice, warning that vessels may be at risk of grounding. it said boats should navigate near the centre of the channel and away from navigation markers.