Titanic concert gets Belfast City Hall big screening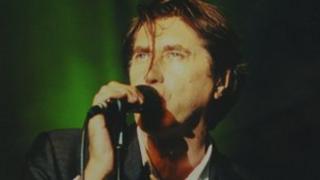 Saturday's Titanic commemoration concert at the Belfast Waterfront is to be shown live on the big screen in the grounds of City Hall.
Bryan Ferry and Grammy award-winning soul singer Joss Stone are among the line-up for the event to mark the centenary of the Titanic's sinking.
The concert will begin at 20:30 BST and will last until about 22:00 BST.
The City Hall site has capacity for 4,000 people; admission is free and on a first-come-first-served basis.
More than 26,000 people applied for the 1,000 free tickets available for the Waterfront concert, which is being shown live on BBC2.
It will also feature performances by Nicola Benedetti, Charlie Siem, the Ulster Orchestra, Alfie Boe, Katie Melua, Mica Paris, Maverick Sabre and the Irish Harp Orchestra, with award-winning broadcaster John Humphrys hosting the event.
Georgia-born Katie Melua, who moved to Belfast with her family when she was eight and lived there until the age of 13, said she was delighted to be taking part.
'Hopes and dreams'
"I'm going to try to fit a visit to the Titanic building in when I'm over - it would be amazing to get that in," she said.
"I think the Titanic celebrations are very exciting. You realise what a historic event it was because it's been celebrated so much recently.
"My thoughts about Belfast are that it's the city that embraced me as a kid.
"It is where I started my hopes and dreams of becoming a musician and an artist and it was really the folk music of Ireland that I found really inspiring and I'll always be grateful to Northern Ireland for that."
The show will also feature readings by Northern Ireland actors Bronagh Gallagher, Colin Morgan and Ian McElhinney.
Bronagh Gallagher said: "I am looking forward to being part of this unique event, to honour all the men and woman who built such an incredible ship on our home soil.
"It will be a privilege to retell their personal stories, their experiences on board the Titanic and dreams for their future through their letters to their loved ones."
Other contributors include Belfast-born actor Kenneth Branagh, Imelda Staunton and Simon Callow who will be reading accounts written at the time of the disaster.
There will also be the world premiere performance of 'Titanic Drums', an original composition by John Anderson featuring 100 traditional drummers from across Northern Ireland and the Republic of Ireland, a massed choir and six times world champion drummer Mark Wilson.
On Friday 13 April, MTV's Titanic Sounds concert will be held at the Titanic Slipway in Belfast.