Northern Ireland digital switchover campaign launched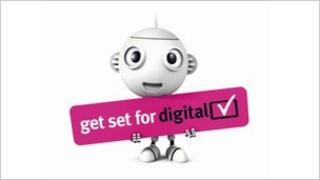 An information campaign to help people switch over to digital TV is being launched in Northern Ireland.
In just six months' time, analogue terrestrial TV services for around 650,000 households will start being switched off.
Digital UK regional manager for NI, Denis Wolinski, said the final countdown to a fully digital TV system for Northern Ireland had started.
He said they wanted to offer as much help as possible with the switchover.
"Over the coming months we will be making plenty of information available and working with the Switchover Help Scheme to ensure viewers know where to turn for advice," he said.
Nigel Tilson, Switchover Help Scheme manager for Northern Ireland, added: "The thought of losing TV channels may concern many older or disabled people.
"But there's no need to worry because help is available.
"All you need to do is look out for your information pack dropping through the door very soon and, once you receive it, either give us a call or return your completed form and we'll do the rest."