NI tourism spend increases by 20%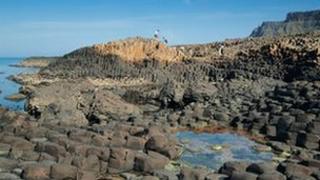 The money spent by overseas tourists in Northern Ireland increased by 20% last year, according to the Department of Enterprise, Trade and Investment.
DETI said visitors from abroad spent an estimated £368m during trips to Northern Ireland in 2011.
There was also a slight increase in the number who stayed overnight.
Tourism Minister Arlene Foster said she was confident that Northern Ireland would become "a must-see destination for people from all over the world".
DETI estimated that 1.5m overseas visitors spent one night or more in Northern Ireland last year, an increase of 4% on 2010.
The deparment gathers figures on both overseas and domestic tourism.
It said a total of 1,968,000 hotel, guesthouse and bed and breakfast rooms were sold between January and December 2011.
The minister said local people had also made a significant contribution, spending £304m on day trips and overnight accomodation within Northern Ireland last year.
Niall Gibbons, chief executive of Tourism Ireland, also welcomed the figures.
He said he hoped a campaign promoting Northern Ireland as a tourist destination in 2012 would reach "over 100 million" potential holidaymakers.
"The hugely successful opening of Titanic Belfast has already helped to generate massive worldwide publicity for Belfast and for Northern Ireland," Mr Gibbons said.
Tickets for the new attraction, which opened on 31 March, sold out during its first two weeks of business.
"It is really encouraging to see that so many tourists visited Northern Ireland last year and bodes well for 2012 when there is a jam-packed programme of exciting events and openings taking place," Mrs Foster said.
"Overseas visitors and local people can now look forward to the Irish Open in Portrush, the opening of the new Giant's Causeway visitors centre as well as many other events taking place across Northern Ireland.