Portadown businesses angry over parking tickets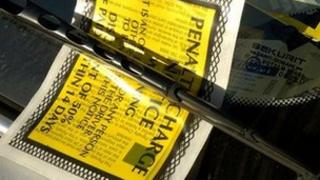 A leading caterer in Portadown has said he may have to move his business out of the town centre after receiving 18 parking tickets in three months.
Traders in one street have said they have to park illegally, after changes left them with a single loading bay.
They said this is also used by car drivers to avoid parking charges.
"Eight hundred yards of (shop) front on a Portadown street has one loading space for all of these businesses," Simon Dougan of Yellow Door deli said.
"You try to load a van and you're in trouble, because you're about 150 yards from the loading bay in the kitchen here, so by the time you walk up and down with a trolley, before you get half way down there's a ticket on the van.
"We're all getting tickets because we all have to park on the pavement illegally because there's nowhere else to park."
Mr Dougan said he has already moved part of his business out of the town centre and is considering moving the rest.
"I don't want to leave but I'm not encouraged to stay at the minute," he said.
'Common sense'
Craigavon Mayor Alan Carson said he had met with Regional Development Minister Danny Kennedy about the issue.
"The response that I got was not of a positive nature," he said.
"Simon has a well-established business here in Portadown and the likes of loading and off-loading is a very important part of the job.
"At the present time the traffic wardens are not using common sense and practicality."
However, Robert McCartney, of the parking enforcement unit of the Department of Regional Development said that was not the case.
"The purpose of parking restrictions is to reduce congestion in town centres and improve safety," he said.
"We're more than willing to meet anybody to discuss any difficulties they have."