Unions to meet BMI staff at Belfast City Airport over future of jobs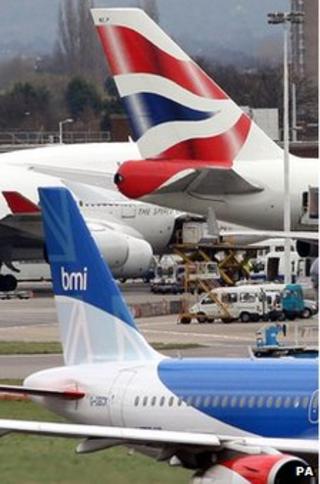 Trade union leaders are to hold talks next week with airline workers facing the threat of redundancy at Belfast City Airport.
The BMI airline has been taken over by British Airways in a £172.5m deal.
About 100 staff employed by BMI at Belfast City Airport were told on Thursday their jobs could be at risk as part of a rationalisation plan.
David McMurray of the Unite union said it was a worrying time for the staff.
"It certainly breeds fear, as people are worried about their mortgages and how they'll feed their families," he said.
About 2,700 people work for BMI across the UK. BA owner IAG said the takeover of the airline from Lufthansa, which was losing £3m a week, could result in the loss of up to 1,200 of these jobs.
BA has said the takeover would secure 1,500 jobs across the UK which would otherwise be lost.
Negotiations with the unions are ongoing. BA has said no decision had been taken about job losses in Belfast.
The sale of BMI to IAG was announced in December and regulatory approval was granted by the European Commission on 30 March.
BA has previously announced it was retaining the route between Belfast and Heathrow, as well as the existing summer schedule.