Handcuffed man rescued by police after diving into water at Bangor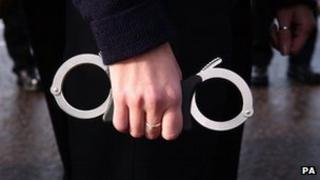 Two police officers have rescued a man in handcuffs who jumped into the water at Bangor Marina in County Down.
Police said the man was arrested in connection with alleged drugs offences at the time of the Junior Orange Order parade on Tuesday afternoon.
A large crowd gathered around police as they made the arrest, and the man ran off and jumped into the water.
Police dived in after the 18-year-old from Belfast and rescued him.
He was taken into custody and later charged with drugs offences, escaping from lawful custody and assaulting police.
He will appear at North Down Magistrates' Court on 4 May.