Gorse fires on hillside near Derry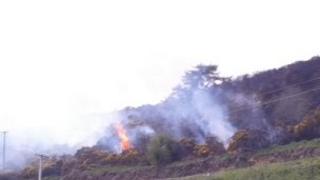 A number of gorse fires have been burning on a hillside just outside Londonderry.
About six separate blazes broke out at Altaghadherry, at about 13:00 BST on Sunday.
Joe Canning and his family were eating dinner when they noticed clouds of smoke behind their property.
"We smelled smoke and we closed the windows and it raged into an inferno thereafter. It's been burning ever since," he said.
"It'll probably go on for days because there is no access to it. The fire department won't be able to get up near it, so it'll probably burn and burn until it does go out, until it rains."
Mr Canning said he was not concerned for his own safety or that of his property, but was worried about the local wildlife.
"There's a lot of wildlife around here, pheasants and badgers and foxes and young birds at this time of year," he said.