BMI staff at Belfast City Airport in consultation over job loss fears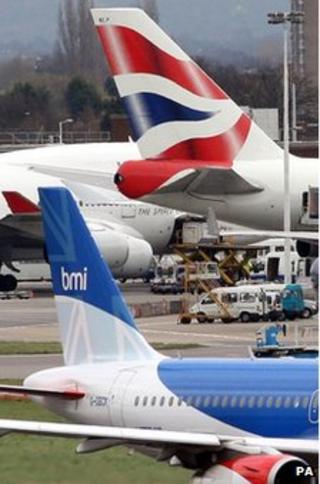 British Midland workers at George Best Belfast city airport have gone into consultation with the company's new owners about possible job losses.
BMI was bought over by British Airways earlier this month in a £172.5m deal.
About 100 staff employed by BMI in Belfast were told on Thursday their jobs could be at risk.
The Belfast to Heathrow route is protected under the deal but East Belfast MP Naomi Long said it was a worrying time for staff.
"We are in a positive situation to one extent as the NI linkage with Heathrow is one of the best bits of the business," she said.
"That might offer people a little comfort. But it is a very difficult time for BMI people until the final package is worked out."
David McMurray of the Unite union said it staff were concerned.
"It certainly breeds fear, as people are worried about their mortgages and how they'll feed their families," he said.
About 2,700 people work for BMI across the UK. BA owner IAG said the takeover of the airline from Lufthansa, which was losing £3m a week, could result in the loss of up to 1,200 of these jobs.
BA has said the takeover would secure 1,500 jobs across the UK which would otherwise be lost.
Negotiations with the unions are ongoing. BA has said no decision had been taken about job losses in Belfast.
The sale of BMI to IAG was announced in December and regulatory approval was granted by the European Commission on 30 March.
BA has previously announced it was retaining the route between Belfast and Heathrow, as well as the existing summer schedule.
In 2001, BA pulled out of its London Heathrow to Belfast route with the loss of 160 jobs.
There are fears that, in the long term, BA wants to use the Heathrow slots provided by the Belfast route but may not continue with the Belfast-London services.