Former UUP chairman James Cooper turns down return offer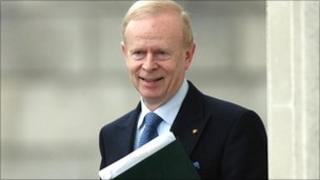 A former chairman of the Ulster Unionist Party has confirmed he turned down an offer to resume the role under the new leader Mike Nesbitt.
James Cooper said he did not have the time to devote to the job.
Instead, the former leader Lord Empey has accepted the post. He declined to comment when contacted by the BBC.
Mr Nesbitt refused to confirm whether he had offered Mr Cooper the job, saying only he had a "conversation" with him.
'Jigsaw'
"I had many conversations with many people about all sorts of permutations," he said.
"It is bit of a jigsaw when you have four picks only (chairman, treasurer and two party officers).
"I wish I could have had six or seven."
When asked if he was saying he had offered Mr Cooper the job, he said: "I am saying that any discussions I had were clearly private and confidential, and we discussed all sorts of combinations."
He said he was "delighted" that Lord Empey had accepted the job.
Mr Cooper, an Enniskillen-based solicitor, said: "I was offered it but I had to turn it down because I had too many commitments.
"It is a challenging and important job, and to do it properly requires a presence in Belfast."
Lord Empey stood down as party leader in 2010 after the Ulster Unionists failed to win any seats in the General Election.
Monday marks Mr Nesbitt's first day in the Stormont assembly as the party's new leader.