Mother's horror as daughter, nine, finds needles in east Belfast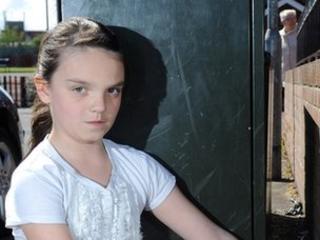 An east Belfast mother has spoken of her horror after her nine-year-old daughter came home carrying needles thought to have been abandoned by drug addicts.
Kimberley Faulkner's daughter, Madison, was one of four children taken to hospital over the weekend as a precaution after finding the needles in a number of locations.
Police seized needles from a park on the Newtownards Road on Friday evening. Mrs Faulker said she had warned her children not to go near the park.
However, Madison found the needles lying at the side of a garden several yards from her home at Yukon Street.
She had opened one of the needles, and it was lying in her hand.
"Initially I knocked the needles straight out of her hand and cleaned her hands with a sterile wash," she said.
"I was shaking from head to toe. They landed all over my kitchen and it was just, get rubber gloves on and get these picked up.
"I just didn't know what to do. My heart was in my mouth."
'Serious harm'
Madison, who had not been pricked by the needles, was later taken to hospital and has been given a clean bill of health.
Another mother, Lyndsey Hands, whose nine-year-old son Carter had been playing with the needles, said she had not realised how serious the situation was "until we got to casualty and the four boys were comparing where they'd stuck the needles".
She added: "You tell your child things like don't talk to strangers, but you never think of saying if you find needles on the ground don't pick them up."
Michael Copeland MLA said he had been contacted by a number of parents whose children had found needles.
"If you are the parents of the child it's the most worrying thing that can be imagined," he said.
"What sort of mentality causes people to leave needles in an area where children or anyone else could suffer harm as a result?
"The simple fact is they're dangerous and should not be left lying around."
A police spokeswoman said the needles "could have caused them serious harm".
"Such items can be dangerous, especially to younger children who may not be aware of what they have found," she said.
"Police would also remind those who use needles of the risks to others they cause by discarding them so wantonly."