Belfast Telegraph switches to morning final edition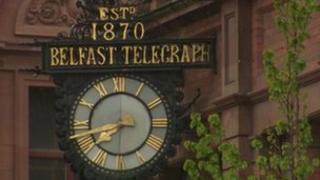 The Belfast Telegraph is to switch to printing only in the morning.
The change, which begins on Friday, brings the newspaper into line with the News Letter and the Irish News.
The Belfast Telegraph was traditionally an evening newspaper and began its morning edition in March 2005.
A spokesman for publishers Independent News and Media said the paper would be "printed, distributed and made available to readers at the same time as all other daily newspapers".
Deputy chief executive Richard McClean said: "With the final edition available earlier, we are committed to maintaining the growth of our strong multi-platform readership and to continuing our unrivalled service to our readers."
Journalist and commentator Chris Ryder said he believed the move was designed to save money.
"They are obviously now retrenching to try to secure their position in the market," he said.
"It may well of course lead to job losses, particularly among journalists, which would be very regrettable."
According to the most recent ABC newspaper sales figures, the Belfast Telegraph remained Northern Ireland's biggest selling daily paper with a circulation of 53,771 between July and December 2011, down 8.1% on the same period in 2010.