Men do not have to complete James Clow apartment purchase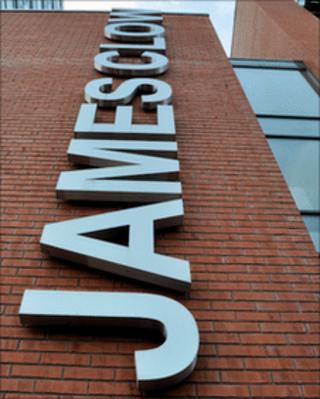 A judge has ruled that two men do not have to complete the purchase of an apartment as the developer missed the completion date and didn't explain why.
Bernard Fitzpatrick and John McIlwaine put down £23,750 a deposit for a flat in Belfast's James Clow building during the property boom.
The completion date was supposed to be at the end of May 2009 and after that date passed the developer, Sarcon No 177, set a new date in October 2009.
The men sued to get the deposit back as they said that was unacceptable.
The developer claimed the original completion date was a 'mere target' and that the men were still contractually obliged to complete the purchase.
'In the dark'
No details were given to the men about why the lengthy delay was necessary.
Mr Justice Deeney said this had been a "grave" breach of contract which left Mr Fitzpatrick, Mr McIlwaine and other potential purchasers "wholly in the dark" for months.
He said Mr Fitzpatrick, a barrister, and other plaintiffs in the same position were entitled to repudiate the contracts.
A key issue involved Clause 8 of the Building Contract which allows the developer a reasonable period of extra time for delays outside its control.
At the time Sarcon claimed its contractor encountered a number of difficulties, including the foundations for two adjoining former licensed premises and adverse weather conditions.
Lawyers for the purchasers argued that Clause 8 only entitles the developer to ask for an extension, rather than demand it.
Litigation
Although the developer could still have been protected by asking for an extension and setting out the reasons, the judge ruled there was no such entitlement in this case.
Sarcon No 177, which is owned by Cookstown developer Desmond Nugent, was ordered to return the deposit with 5% interest.
The case is one of the first to go in favour of a buyer since Northern Ireland's property crash sparked a wave of litigation.
It will now be applied to up to 20 others who joined in the group action.
It was made clear, however, that buyers could remain tied to the deals if they remained "silent" rather than trying to get out of the contracts at the time the completion date was missed.
Outside the court Mr Fitzpatrick and Mr McIlwaine's solicitor, Christopher Duffy of Elliott Duffy Garrett, said: "It's a very significant judgment in terms of not only this individual case but also for the 20 cases that formed part of the joint group.
"The judgment and the reasoning has the potential to lead to the fair and just resolution of the remaining cases involving this particular development."
Barbara Creed of Tughans, who played a key role in bringing together the group, added: "This is the first time such a group funding agreement has been successfully litigated in Northern Ireland."