Jean Quigley murder accused Stephen Cahoon 'confided in friend'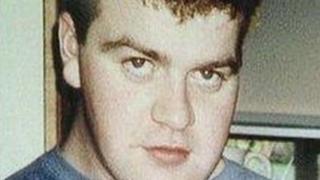 The retrial of a man accused of murdering a woman pregnant with his child has heard that he told a female friend that the victim was worried that he "was going to do something to her".
Stephen Cahoon, 39, admits killing Jean Quigley, 30, in Londonderry in July 2008, but he denies murder.
The mother-of-four was found dead at her home in Cornshell Fields. She had been badly beaten and strangled.
A retrial was ordered after a jury failed to reach a verdict in 2009.
Sandra Wilson told the Central Criminal Court in Dublin on Tuesday that Mr Cahoon spoke to her a number of days before the killing and after the couple had broken up.
Text message
She said Mr Cahoon told her that he had just got a text message from Ms Quigley saying she was worried that he "was going to do something to her".
He told his friend that he had never been violent to Ms Quigley, the court heard.
Miss Wilson also gave evidence that Mr Cahoon had threatened to throw himself off a bridge after Ms Quigley told him she was thinking of having an abortion.
The retrial, which is expected to last three weeks, continues.
The first trial in 2009 made legal history, as Mr Cahoon, who was arrested in County Donegal, opted for trial in the Irish Republic.
He was the first person to face a southern jury for a non-terrorist related offence committed in Northern Ireland.
Under the Criminal Law Jurisdiction Act of 1976, suspects can be tried in the Republic for alleged offences committed in Britain or Northern Ireland.