Navy divers to examine River Foyle wreck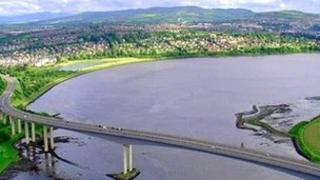 Navy divers are to be brought in to examine a wreck found in the River Foyle in Londonderry.
The "underwater anomaly" found near the Foyle Bridge last month has baffled experts, but it is thought it could be a World War II submarine.
A meeting was held in Derry on Tuesday to discuss what should happen next and further sonar surveys will be carried out in the coming days.
Environment Minister Alex Attwood said there are risks associated with the site and a specialist team needed to be brought in.
"The new sonar work will provide additional information to inform the navy divers in the future dive," he said.
Some people have speculated that the wreck could be a German U-boat, as at the end of the war, Nazi submarines surrendered in the Foyle from where they were taken out to sea and destroyed or sunk.
Others believe it is unlikely to be a full-sized submarine, suggesting it could be a British two-man mini submarine - known as an X craft.
Another theory is that it could be a small boat or even a private yacht, as one is known to have sunk in the area many years ago.
Mr Attwood said they could finally get to the bottom of the mystery within seven to ten days once the divers have carried out their surveillance work.