SPED rehousing scheme turns down racist intimidation family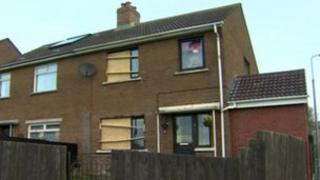 A family who left their house in east Belfast after two racist attacks have had their application to have their home purchased under a special scheme turned down.
The Special Purchase of Evacuated Dwellings (SPED) scheme allows the authorities to buy houses of people who have been intimidated. Police said they did not discuss individual cases.
Eight-year-old Promise Awoyelu was injured in January when a large rock was thrown through her bedroom window as she slept.
It was the second attack on the house in the space of a week.
The child's father, Charles Awoyelu, and his wife decided after the attacks they could not return with their five children to the house which they bought last July.
"There is no chance of us returning to the house in Ballybeen, because I don't think the lives of my children are safe. I cannot go back into that place," he said.
"We put in an application to the SPED scheme where the government might buy back the house so we could move our mortgage somewhere else where we'd feel safer.
"It never crossed my mind that such a request would be turned down."
The SPED scheme is administered by the Housing Executive, but successful applications require the signature of the chief constable.
The scheme is governed by strict criteria and for an application to proceed, police must believe that the person's life is in danger.
People from Mr Awoyelu's church have managed to find temporary rent-free accomodation for his family, but this is due to come to an end.
Mr Awoyelu, who works as a biomedical scientist at the Ulster Hospital, faces having to pay rent as well as the mortgage on their house which was attacked, and says he is appealing against the decision.
"I don't think I can gamble with our lives. If it is not issued, it would be impossible for us to survive," he said.
Alliance MLA Chris Lyttle has been helping the family.
"I know that the Housing Executive have been working extremely hard to ensure the family are assisted with their housing need," he said.
"The family have made an application to the SPED scheme and we are seeking a review.
"We do want to make sure that all the information has been taken into consideration, and we hope that review will be positive."