PSNI gun left in north Belfast house after raid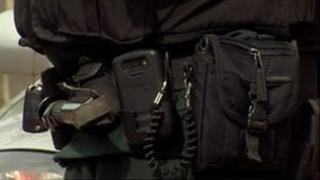 An internal PSNI investigation is under way after a police officer left a gun and ammunition in a north Belfast house after a raid.
The house in the Ardoyne area belongs to a 39-year-old man who had been arrested earlier in connection with dissident republican activity.
After the search, an officer discovered that a gun belt, which included a firearm, was missing.
It is believed it had been left on a child's bed.
Twenty minutes later, police returned to the property and with the consent of the householder retrieved the item.
In a statement the PSNI said they were "treating the temporary loss of this equipment extremely seriously and have commenced an internal disciplinary investigation into the circumstances of the incident".
The police said there were no children in the house at the time.
The householder has confirmed he intends to make a complaint to the Police Ombudsman.
DUP Policing Board member Ian McCrea said the incident was "deeply worrying".
"It is fortunate that this firearm did not fall into the wrong hands," he said.
"Officers are given strict training and guidelines to follow in relation to the deployment and handling of firearms.
"It is clear that in this case something has gone very wrong."
Sinn Fein assembly member Gerry Kelly, who is also on the Policing Board, has called for a "short, sharp" inquiry into the matter.
"I can't think of any reason why a gun would be set on the bed," he said.
"I think basic training would dictate that a police officer would not lose sight of their weapon, except if they were off duty."