Slight rise in unemployment benefit claimants in Northern Ireland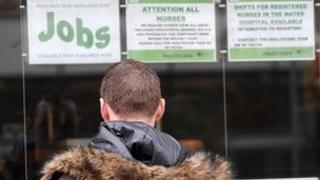 There has been no change in the overall Northern Ireland unemployment rate, but a slight rise in the numbers claiming benefit.
Under the definition of unemployment known as the labour force survey, unemployment between December 2011 and February 2012 was estimated at 6.8%.
This was unchanged for the rate recorded in the previous quarter.
The Northern Ireland unemployment rate of 6.8% remained below the UK average rate of 8.3%.
Last month the seasonally adjusted number of people claiming unemployment related benefits stood at 61,500.
That was up 200 on the previous month's figure.
The Northern Ireland claimant count rate in March was the second highest among the 12 UK regions.
The annual increase in Northern Ireland was the second lowest among the UK regions.