Alliance Party to publish donor details - Naomi Long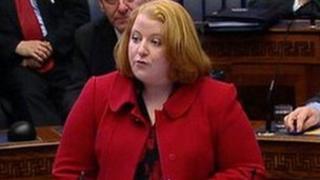 Alliance Party MP Naomi Long has called on the prime minister to urge Northern Ireland parties to publish details of donors.
Speaking at Westminster Naomi Long said her party would shortly be publishing details of who donates to it.
The prime minister said there were reasons why parties in Northern Ireland have not published details of donors.
However, he said he welcomed the move by the Alliance Party and said he hoped other parties would follow.
He said he was happy to publish details of who donates to the Conservative Party in Northern Ireland.