NI electricity bills could fall by £72 over five years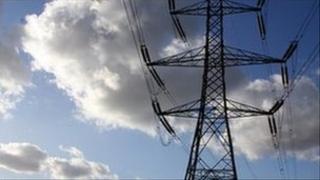 Electricity bills could be cut by £72 over five years if proposals from the NI utility regulator come into force.
However, Northern Ireland Electricity (NIE) has told the regulator it needs a £128 increase to household bills over the same period.
The company said it is needed to cover basic maintenance and improvements to the network.
The regulator has considered this request for more money, and decided that it is not justified.
NIE is in charge of the lines, poles and substation infrastructure that gets electricity from power stations to homes and businesses.
Because they are the only company which carries out that job, the utility regulator has to approve the price they charge customers.
End of lifespan
That cost currently makes up about one quarter of every electricity bill.
NIE said that much of the infrastructure in Northern Ireland had reached the end of its lifespan.
Many pylons and substations were installed in the 1960s, and NIE said they should be replaced.
They asked the regulator to approve a £128 increase to household bills over five years to cover that cost.
For small businesses bills would go up by £452 over five years.
However, utility regulator Shane Lynch said: "The network has been performing very well so it isn't the case that it's all likely to fall over at one time."
Final price
Instead of increasing bills, Mr Lynch has proposed cutting them.
NIE now has three months to respond to the regulator before a final price is agreed.
A spokesperson for NIE, the network company, said: "NIE's plans for RP5 reflect its focus on delivering an electricity network that is fit for future needs and provides value for money for customers.
"We will review the utility regulator's draft determination and submit our response by the due date, 19 July. Our response will comprehensively address all issues raised in the draft determination.
"We will publish a copy of it on our website."
The regulator is also concerned about what appears to be an accounting anomaly.
NIE have outperformed their targets by £118m during the last five years, so the regulator has launched an investigation to see how this has been achieved.
Mr Lynch said: "We're doing some investigation at the moment, but it's too early at this stage to say exactly what the outcome of that might be."