Tour operators learn of Northern Ireland attractions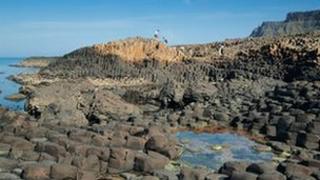 More than 140 tour operators from across the world are in Belfast to learn about what Northern Ireland can offer overseas visitors.
They have been meeting about 100 providers of accommodation, tourist attractions and transport.
The Meet the Buyer event has been organised by the Tourist Board.
It is hoped the new Titanic Belfast building and other locations such as the Giant's Causeway visitor centre will boost visitor numbers.
NITB chief executive Alan Clarke said: "With recent figures showing a 4% increase in overseas visitors and a massive 20% increase in what they spend, the signs are very healthy for tourism here.
"The Meet the Buyer event will help to further build on this success as the holiday market from Great Britain, Republic of Ireland and overseas will be crucial in reaching our tourism targets.
"These international buyers will also be participating in familiarisation trips that will showcase our scenery, Christian heritage, cookery and food and our history and culture among many other areas of interest.
"Forthcoming events such as the Irish Open at Royal Portrush Golf Club, the opening of the technologically advanced Giant's Causeway Visitor Centre and the arrival of the colourful Clipper Round the World yacht race in Londonderry as a host port in July 2012 will ensure even greater international coverage and further heighten awareness of what we now have to offer visitors."
Niall Gibbons, chief executive of Tourism Ireland, who are also involved in the event, said: "Tourism Ireland is delighted to bring so many top international tourism buyers to Northern Ireland for Meet the Buyer 2012, which provides such an important opportunity for local industry partners.
"The high attendance of these buyers from around the world is a strong indication that interest in visiting Northern Ireland remains high and that it can, and is, competing with the best destinations in the world."
The operators from the Republic of Ireland, North America, Great Britain and Europe are learning more about the programme of events as part of the NI2012; 'Our time, our place' campaign, as well as tourism opportunities beyond this year into 2013 and 2014.
The money spent by overseas tourists in Northern Ireland increased by 20% last year, according to the Department of Enterprise, Trade and Investment.
DETI said visitors from abroad spent an estimated £368m during trips to Northern Ireland in 2011.
There was also a slight increase in the number who stayed overnight.
Tourism Minister Arlene Foster said she was confident that Northern Ireland would become "a must-see destination for people from all over the world".
DETI estimated that 1.5m overseas visitors spent one night or more in Northern Ireland last year, an increase of 4% on 2010.
The department gathers figures on both overseas and domestic tourism.
It said a total of 1,968,000 hotel, guesthouse and bed and breakfast rooms were sold between January and December 2011.
The minister said local people had also made a significant contribution, spending £304m on day trips and overnight accommodation within Northern Ireland last year.
Niall Gibbons, chief executive of Tourism Ireland, also welcomed the figures.
He said he hoped a campaign promoting Northern Ireland as a tourist destination in 2012 would reach "over 100 million" potential holiday-makers.
"The hugely successful opening of Titanic Belfast has already helped to generate massive worldwide publicity for Belfast and for Northern Ireland," Mr Gibbons said.
Tickets for the new attraction, which opened on 31 March, sold out during its first two weeks of business.
"It is really encouraging to see that so many tourists visited Northern Ireland last year and bodes well for 2012 when there is a jam-packed programme of exciting events and openings taking place," Mrs Foster said.
"Overseas visitors and local people can now look forward to the Irish Open in Portrush, the opening of the new Giant's Causeway visitors centre as well as many other events taking place across Northern Ireland.