Small Wonders childcare centre gets £700,000 of EU funds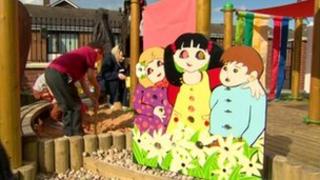 A childcare centre in west Belfast is to get £700,000 in EU funding to promote its cross-community work.
Twelve new jobs are to be created at the Small Wonders project off the Shankill Road.
It is the group's second education facility and aims to provide childcare places for children from the Falls and Shankill areas.
The project is jointly funded by the executive and the Irish government.
Betty Carlisle from the Shankill Women's Centre, which manages the initiative, said it would have long-term benefits for the community.
"I think for the children that they're going to be growing up thinking this is just quite normal and it would be a quite normal walk through those barriers up there and come to the Shankill community and vice versa for kids in the Shankill," she said.