SDLP's Dolores Kelly hits back at Alliance leader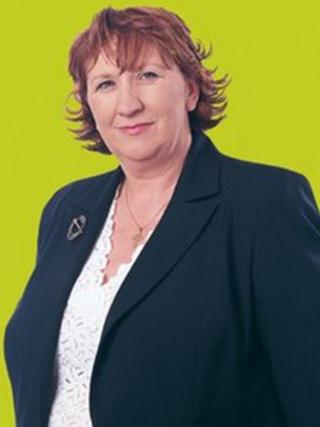 The SDLP has accused David Ford of playing "pinball politics" after he criticised the four biggest parties at the Alliance Party conference.
On Saturday, Mr Ford said the SDLP and UUP were "to be pitied" while the DUP and Sinn Fein were "to be feared".
The SDLP deputy leader Dolores Kelly said Mr Ford had surrendered "political principle for political office".
She claimed he had "colluded" with Sinn Fein and the DUP to "bend democracy" when he accepted the justice ministry.
The Alliance leader was appointed to the justice post in April 2010, after securing cross-community backing from DUP and Sinn Fein assembly members.
However, his appointment was not supported by the SDLP or the UUP, who both put forward members from their own parties for the justice job.
'Plaything'
Ms Kelly said he had suffered "an acute bout of political amnesia" while delivering his leader's speech at the Alliance Party conference.
"A short while ago Alliance said they were the voice of opposition. But for the last two years they have been the DUP's plaything, doing their bidding in the executive and the assembly and hardly ever dissenting from the DUP/Sinn Fein line.
"Now Alliance say the DUP/Sinn Fein are to be 'feared.'
"This is pinball politics, a party with a leader which swings this way then that, which deserts principle for office, which one day is firmly doing the DUPs business the next day tries to jump ship," Ms Kelly said.