Colum Eastwood moved in SDLP Stormont reshuffle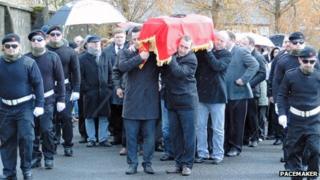 The SDLP's Colum Eastwood has been replaced on the Stormont justice committee by the Mid-Ulster assembly member, Patsy McGlone.
Mr Eastwood was at the centre of controversy last week over his attendance at the paramilitary-style funeral of a friend.
A colour party fired shots over Seamus Coyle's coffin on Tuesday. Mr Eastwood said he was not there then.
It has emerged that party colleague, Mark H Durkan, was also at the funeral.
A party spokesperson told the BBC on Sunday that both assembly members had attended in a "personal capacity".
Last week, Mr Eastwood, a former mayor of Derry, said he would do the same thing again.
Mr Eastwood's replacement, first announced last Thursday, is part of a wider SDLP reshuffle which the party said was planned before the controversy broke over Seamus Coyle's funeral.
Mr Eastwood has replaced Mr McGlone as a member of the Committee on Standards and Privileges.