Andrew Mundy gets suspended sentence for sexual assault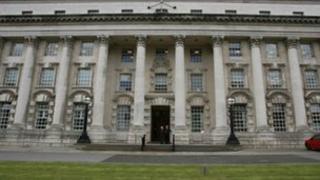 A teenager has received an 18-month sentence, suspended for three years, for sexually assaulting a girl he met online.
In February, Andrew Mundy, 19, from Irwin Crescent in east Belfast, was convicted of sexually assaulting the girl on 9 September 2009.
The judge said had he been convicted of the original rape charge, Mundy would have faced between five and eight years in jail. Mundy was also ordered to sign the sex offenders register for 10 years.
Belfast Crown Court Judge Patrick Lynch said Mundy had behaved in a "callous and totally inhumane way" towards his victim and that he had "taken advantage of" a naive and vulnerable person.
"You dealt with her as a sexual object on this afternoon, you took advantage of the position she was in and then you simply ignored her," he said.
"That says little about you as an individual and a person irrespective of the criminality you have been convicted of."
The jury, however, was unable to agree on an allegation that Mundy had raped the woman and the charge has since been "left on the books".
During the week-long hearing, Mundy's 20-year-old victim told the court how she met him through an internet chat room before meeting him in person for the first time on 7 September when they walked around Victoria Park in the east of the city.
At that time, Mundy told her: "I bring people in here and rape them" but later said it was just a joke.
The jury heard that when the woman met Mundy again two days later, he sexually assaulted her before having sex with her.
The woman claimed Mundy had raped her, but in giving evidence on his own behalf, Mundy said she had consented to sex.
Judge Lynch said on Monday that he was only sentencing on the offence which Mundy had been convicted of and also that he accepted the teenager was "not a sexual predator" who posed a danger to other females.
Passing sentence the judge told Mundy that he could not afford to get on the wrong side of the law for the rest of his life.