Mother speaks of horror of son's drug habit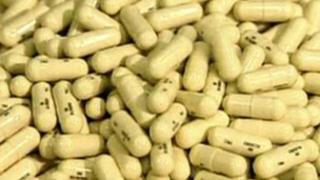 A County Antrim woman has told the BBC how drugs turned her happy child into a withdrawn and agitated teenager.
She has claimed paramilitaries are behind drug dealing in east Antrim, and that drugs are readily available.
She said it was a major issue in the area and not enough was being done to stop drug dealers targeting young people.
Julia, not her real name, said she suspected her son was taking drugs when he was about 14-years-old.
She said he changed over a period of time from being a bubbly, family-orientated child to a withdrawn and agitated teenager.
Her fears were confirmed when she sought advice from her GP and drug awareness centres and was told what signs to look out for.
But she had never dreamed her son would become involved in drugs.
"I was embarrassed to go to other parents. You know everyone is talking about your child," she said.
"They get labelled as a scum bag and they're not. They get drawn into this thing. It puts pressure on everyone in the family."
Julia's son first started experimenting with cannabis and pills, but his habit spiralled out of control.
The problem was so bad, she had to lock away all her belongings amid fears he would sell them to get money for drugs.
She said her son was partly responsible for agreeing to take the substances in the first place, but she claimed drug dealers in the east Antrim area were to blame for making them easily obtainable.
"Drugs are everywhere," she said.
"They (drug dealers) say to the kids: 'I'll give you £40 worth and you can give it to me on Friday,' knowing they don't have the money to pay it back. I know that it's paramilitaries that are supplying them.
"I have proof that it's paramilitaries."
Julia said that, for a long time, she felt responsible for her son's actions.
"You really do blame yourself," she said.
"What had I done wrong? But it would be different if all your kids were doing it, but it's just the one. It makes you think this isn't my fault."
Julia claimed there was no support for parents who were "ashamed and embarrassed" to even talk about the problem.
She said the government and others had swept the issue "under the carpet for too long" and needed to deal with the drugs issue.
Julia has also called for a support group for families.
The police said they had made a number of drug seizures in the Newtownabbey and greater Belfast area in recent months.
They said the issue of drug taking, dealing, and misuse had been identified by the local community in Newtownabbey as a "key concern".
But they need local people to help catch those responsible.