Statement due on future of St Patrick's Heritage Centre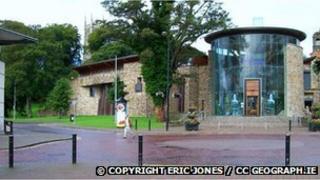 A statement is expected later about the future of the St Patrick's Heritage Centre in Downpatrick.
The County Down attraction could close next week due to funding shortages.
Down District Council discussed the issue on Monday night, ahead of negotiations with centre management on Wednesday.
A number of options will be proposed to try to ensure the tourist attraction remains open.
The funding difficulties were outlined in a note to the council and MLAs and follow a series of cuts in the council grant and other changes.
These include the removal of the centre's overdraft facility in February and a further reduction in the council's funding grant by £20,000 to £115,000.
It is understood the consequences of closure would be the immediate cancellation of all bookings from tour operators, including 252 coach groups due to visit.
Basil McCrea, the chairman of the assembly's employment and learning committee, has voiced concerns that there is a real danger the centre could close.