Jean Quigley murder accused Stephen Cahoon gives evidence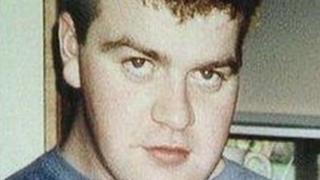 A County Londonderry man accused of murdering the mother of his unborn child has begun giving evidence at his retrial.
Stephen Cahoon, 39, admits killing Jean Quigley at her home in Cornshell Fields, in Derry, on 26 July 2008 but he denies murder.
He was arrested in County Donegal shortly after the killing.
In July 2009, a jury at Dublin's Central Criminal Court failed to reach a verdict and a retrial was ordered.
Cahoon began giving evidence shortly before lunch-time on Tuesday.
He told the Central Criminal Court in Dublin that he strangled Jean Quigley to death after she had told him the child she was carrying was not his and that she was going to have an abortion.
"That's when I saw red and I grabbed her by the throat," he said
Cahoon said he held for about 30 seconds and she "turned purple".
He admitted leaving the scene and using a false name to get a taxi.
He said he fled to Donegal, then Galway and back to Donegal where he was arrested by gardai.
He said he was panicky, scared and suicidal at the time - taking pills and buying ties with which to hang himself.
Under cross-examination Cahoon said he did not call an ambulance or the police because he hoped she was still alive.
He denied going to Ms Quigley's house with the deliberate intent of killing her.
His cross-examination continues on Wednesday.