Vodafone workers vote for strike over Newry jobs switch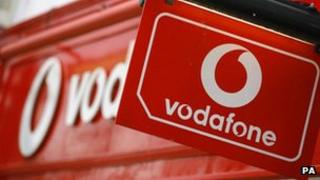 Customer service staff at Vodafone Ireland have voted to strike over the company's decision to out source 300 jobs to a company in Northern Ireland.
Workers at call centres in Dundalk and Leopardstown cast 262 votes in favour of strike action with two votes against.
It follows a decision to move jobs to Newry-based Teleperformance.
The Communications Workers' Union (CWU), is considering serving strike notice on the company.
The switch over is due to take place on 8 May.
The CWU is currently involved in negotiations with Vodafone.
The company promised all workers would have the opportunity to take up a job at Teleperformance.
However, Vodafone has admitted that this will not be possible for all workers and is engaged in negotiations with the union on possible redundancy packages.
In a statement, the company said: "This decision impacts 26 Vodafone roles and 290 roles with the existing third party contractor, Rigney Dolphin.
""Vodafone acknowledge that many roles affected may relocate to Newry, where Teleperformance is headquartered. The company also recognises that some employees may not be in a position to relocate in these circumstances.
"The consultation process is ongoing in order to explore all concerns and provide a forum for agreement."
The CWU wants to delay the changeover date until agreement is reached.