Ilex head admits mistakes were made with public money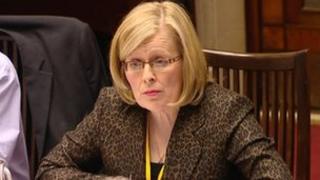 The head of Ilex, the organisation responsible for the regeneration of Londonderry, has admitted her firm made mistakes while spending public money.
Aideen McGinley made the comments while being questioned by MLAs at Stormont's Public Accounts Committee (PAC).
Ilex has been criticised for spending more than £400,000 without proper government approval and paying unauthorised bonuses to a former CEO.
Dr McGinley said the company had got things wrong and would put them right.
She assured the committee that lessons had been learned and said a number of procedures had been put in place to ensure there was no repeat of the unauthorised spending.
"I'm confident we know what's gone wrong and I'm confident that we can deal with it," she told the PAC.
'Blatant disregard'
However, PAC member Mitchel McLaughlin said there had been a "blatant disregard for rules and sponsor control".
The Sinn Fein MLA pointed out that, as a former permanent secretary of the Department of Employment and Learning (DEL) and the Department of Culture, Arts and Leisure (DCAL), Ms McGinley should have been well aware of spending regulations.
"Are we expected to believe that you didn't know the absolute duty to report the issues that are now dealt with as unapproved expenditure, or are you expecting us to accept that you did, in fact, blatantly disregard rules which you were completely and absolutely familiar with?", Mr McLaughlin asked.
Dr McGinley said: "I'm here to explain but there are things that I can't defend".
She told the PAC hearing: "We need to regain the trust and confidence of this committee, the assembly, our sponsor departments - but most importantly the city - and that's what we are determined, as a board and a staff, to do".
'Regrettable'
Matt McNulty, the company's interim chairman, released a statement in which he said: "The issues identified by Ilex that subsequently led to the comptroller and auditor general's report are most regrettable.
"To ensure this situation does not recur, the board and management of Ilex have carried out a thorough review which resulted in a detailed and comprehensive action plan which is currently being implemented."
Mr McNulty said they would ensure that the "principles of corporate governance are firmly embedded within Ilex" as the company worked towards delivering "an ambitious agenda of change" in Londonderry.
Ilex was set up in 2003 and was involved in projects like the regeneration of Ebrington Barracks and the 2013 City of Culture bid.
The company was criticised in an Audit Office report which claimed there was a "systemic breakdown" in how Ilex used the money given to it by central government.
It said £400,000 was spent on projects without proper approval by government departments.
It also criticises bonus payments of £29,000 to former chief executive, Bill Kirk.
The payments, between 2007 and 2009, should have been approved by the Department of Finance but were not.
Ilex said it believed the payments were in line with Mr Kirk's contract.