Future of St Patrick's Centre remains uncertain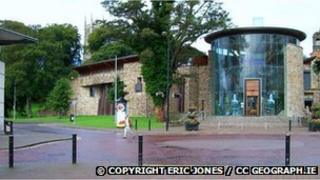 The future of St Patrick's Centre in Downpatrick is still uncertain following a meeting between its board members and local councillors.
However, the chairman of Down District Council confirmed that the centre would not be closing on Monday 30 April as had been previously feared.
After the meeting, both sided issued a joint statement describing their discussions as "fruitful".
They said they had a "unity of purpose" to ensure the centre remained open.
The County Down tourist attraction was under threat of closure as early as next week due to funding shortages and a series of cuts to its council grant.
Its financial problems were outlined at a separate meeting of Down District Council on Monday night, when a further £20,000 reduction in the council's contribution to the centre was discussed.
It is understood the consequences of closure would be the immediate cancellation of all bookings from tour operators, including 252 coach groups which are due to visit.