Lawyers 'defied' High Court order over property linked to Sean Quinn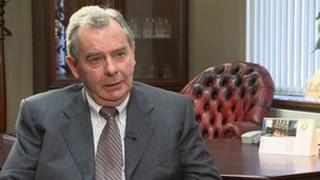 Two Ukrainian lawyers "disobeyed and defied" a High Court prohibition on the disposal of eastern European property linked to bankrupt ex-billionaire Sean Quinn, it has been claimed.
Senior counsel for the Irish Bank Resolution Corporation (IRBC) also alleged the pair have since made no attempt to correct a breach undertaken to secure a $45m claim against a Ukrainian shopping centre.
The accusations were made as contempt of court proceedings began against the two men, legal representatives of the British Virgin Islands-registered Lyndhurst Development Trading.
The lawyers, Dmitri Zaitsev and a Mr Serpopkrylov, listened via video link to a Kiev business centre as the case against them was outlined at the High Court in Belfast.
IBRC, the former Anglo Irish Bank, is locked in a legal battle for control of Mr Quinn's international empire as part of its attempt to recoup more than £2bn.
As part of that wider action, Lyndhurst was prohibited from enforcing any loan agreement or dealing with debts surrounding the mall in Kiev under the terms of an emergency injunction granted in Belfast in the early hours of 23 December.
However, it is alleged that later the same day the order was ignored at a hearing in Kiev.
In a blow to the bank's attempts to seize the property, Lyndhurst secured judgment from the Ukrainian court that it was entitled to enforce a $45m debt against the firm which owns the mall, Univermag.
Gabriel Moss QC, for the bank, said in court on Wednesday that "this was the clearest possible act of disobedience and defiance of the Northern Irish court order."
He said Mr Zaitsez and Mr Serpopkrylov were warned any breach would have serious penal consequences yet still asked the Ukrainian court to give judgment for the debt.
The barrister said "excuses" would be dealt with during cross-examination.
As his allegations were relayed through a translator, he added: "The position, as of today, is that Mr Zaitsev and Mr Serpopkrylov have deliberately and wrongfully obtained judgment on behalf of Lyndhurst against the court order of the Northern Irish High Court, and have refused to try to put matters right in any shape or form".
The hearing continues.