Increase in waiting times at NI emergency departments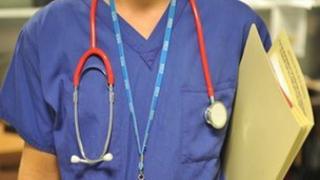 There has been an increase in the number of people having to wait more than four hours to be treated at emergency care departments in NI.
However, the number of patients who had to wait more than 12 hours has decreased by more then a third (34.3%).
The Department of Health aims to deal with 95% of emergency admissions within four hours.
These latest figures reveal just over 71% of people were dealt with within that time-frame.
The statistics are released by the department every three months and record the length of time a patient waits to be either treated and discharged, or admitted to hospital after arriving at an emergency department.
In total, Northern Ireland's emergency care departments dealt with 53,921 patients in January 2012.
There were 54,705 the following month and 60,284 patients attended A&E in March 2012.
Last month, it emerged that an elderly man had died on a trolley after waiting 22 hours at the Royal Victoria Hospital's emergency department.
The Belfast Health and Social Health Care trust is investigating the circumstances of his death.
The Health Minister Edwin Poots has also established an action group to look at how A&E waiting times can be reduced across Northern Ireland.