House flooded 'during drug binge'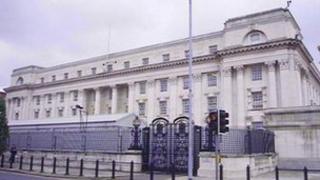 An alleged teenage burglar flooded a house while trying to steal copper piping during a three-day drink and drugs binge, the High Court has heard.
Ryan Pepper had several body injuries and was covered in blood when arrested near the scene of the suspected raid in Portadown, prosecutors said.
The 18-year-old, of Westland Road in the town, denies charges of burglary and attempted theft.
Refusing bail, the judge said it was a "hopeless application".
A prosecution lawyer said that during the break-in at West Street last Saturday, a water system, window and door were damaged.
"Police believe there was an attempt to extract copper piping from the premises," she said.
"Due to the damage the property was subjected to flooding."
Poor recollection
She said the accused had been identified by witnesses who claimed they had seen him at the premises.
Although he admitted being at the house his recollection was said to be poor due to taking drink and drugs over a three-day period, she added.
A defence barrister argued the case against his client was weak, saying that Mr Pepper claimed to have gone innocently to the property having forgot his friend no longer lived there.
"He said the reason he was cut was because he was so intoxicated he fell on a broken Buckfast bottle some time before," the barrister said.
"There is no forensic evidence linking him to any of the tools of the trade in a copper theft case."
However, Mr Justice Deeny ruled that the bail application was "a complete waste of time".
The judge added: "I want the Legal Services Commission written to and told that legal aid should not have been granted in this case."